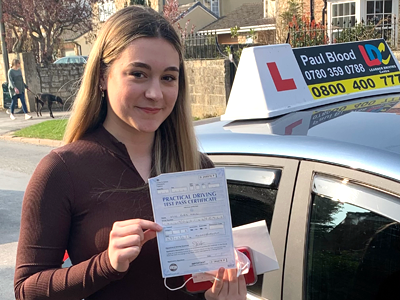 Ruby Hall
Passed 1st time
I have very much enjoyed learning to drive with Paul, he subtly pushes you out of your comfort zone which really helped me learn. He is also very patient when you make mistakes and so I never felt under pressure in his car which really boosted my confidence. Paul is also very flexible with hours of driving lessons so it was easy to find a day which suited both of us. Overall I had a great experience with learning to drive with Paul.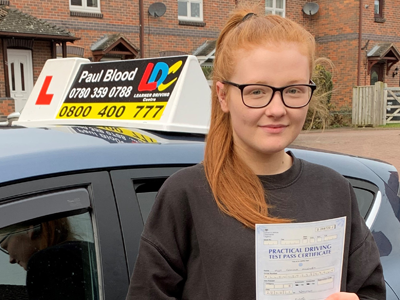 Gemma Allenby
Thank You Paul
Going from no driving experience to passing my test, Paul was a great, friendly driving instructor to learn with. The approach Paul has to teaching you how to drive helps you become a confident and safe driver. He was always ready with extra help such as video clips and answering any questions I had to enable me to make progress towards my test. I would definitely recommend Paul.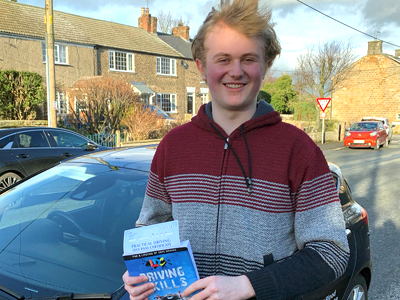 Henry Morley
Passed 1st time
Learning with Paul was a very enjoyable experience. By breaking down the process of learning into small steps, each leading to the next, Paul helped me build up my confidence and skill until I could handle independent driving safely. His methods of explaining the complicated aspects of learning made it all simple and easy to understand. I can highly recommend him for anyone considering learning to drive.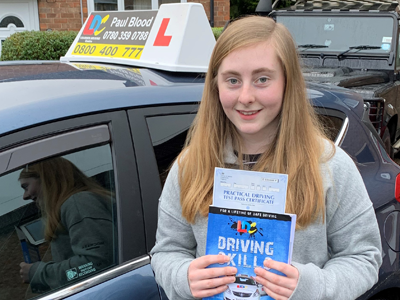 Emily Hallatt
Thank You Paul
Although I had lessons with a previous instructor before Paul, I was greatly lacking confidence and was considering giving up driving altogether. After a break I took the plunge and decided to have lessons with Paul and see how it went. From the onset Paul was professional, friendly, and always patient. He enabled me to work things out for myself, but always offered the help that was needed which has immensely boosted my confidence, as I now feel like a better and safer driver, and I know that I can deal with difficult situations and be confident in my decisions. Every lesson was tailored around what I wanted or needed to practice, and I always came away from a lesson feeling like I had made good progress. I thoroughly enjoyed each lesson and I can't thank Paul enough.
Michael Kay
Passed 1st time
Paul was a great instructor he ensured I was comfortable with the control of the car and switching between the first 3 gears then we were straight onto the road putting different situations to the test, there was not half an hour of talking before a lesson we said what we wanted to accomplish that lesson and we went straight out and did it. He always made sure I was competent at different manoeuvres before moving on and we regularly re-capped on them to keep them fresh in my mind for the test. I wouldn't recommend any other instructor as I had little to no doubts when it came to the test and passed first time. 10/10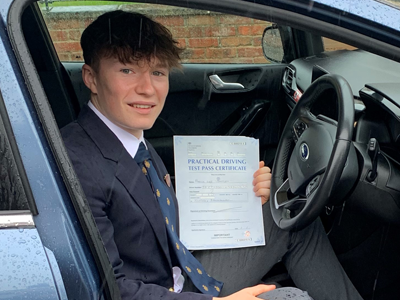 Marcus
Passed 1st time
Learning to drive with Paul was easy, fun and flexible. Paul is a friendly character who you can easily have a chat with, but he is also a great instructor who knows everything about the rules of the road and driving. He helped me learn through a variety of methods and he was always understanding when I made mistakes. Paul is encouraging in is manor and always explains things clearly. He took me through everything I needed to now for my test although the focus of every lesson was on safe driving and as a consequence I now feel confident in my driving ability. I would definitely suggest Paul to anyone who is considering to learn how to drive.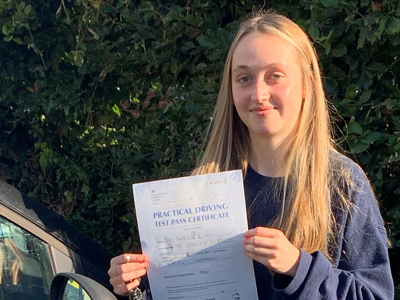 Olivia
Thank You Paul
Paul is an amazing driving instructor, who taught me very well and I now feel confident when driving. I would highly recommend Paul as he is a very clam and friendly instructor who is always happy to help and is always trying to find new ways to teach drivers safely.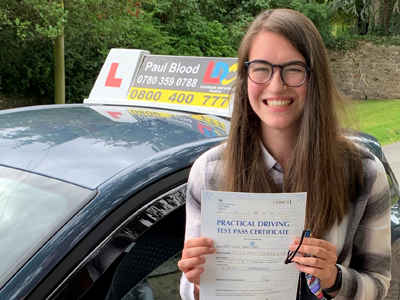 Sophie Jones
Passed 1st time
I would definitely recommend Paul, he is a great instructor. His focused method of teaching really helped with growing my confidence on the road, and I was able to pass first time. If you need extra help with any of the topics, he is always able to recommend extra videos and gives detailed explanations using diagrams to adapt to your learning style. Thank you for everything Paul.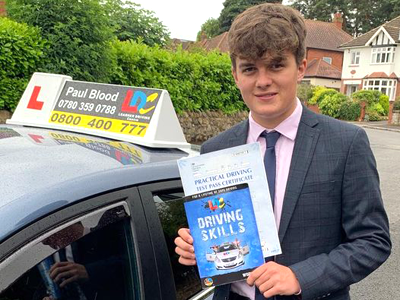 Joe Whatley
Thank You Paul
Paul was a great driving instructor, who made the whole experience really hassle free and enjoyable. Would 100% recommend to anyone looking for a driving instructor. Really quick replies to messages which makes organising tests and lessons so simple. All round perfect instructor. Thanks again Paul.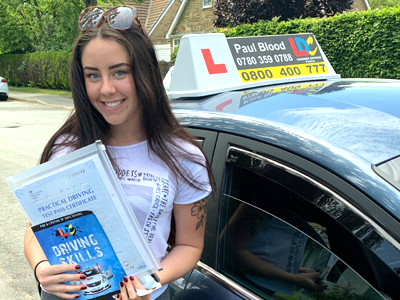 Ruby Mogg
Thank You Paul
Paul has been a fantastic driving instructor from start to finish. He was very thorough with his advice and guidance on how to improve. His kindness and patience has helped me to pass my test. I would definitely recommend Paul as a driving instructor.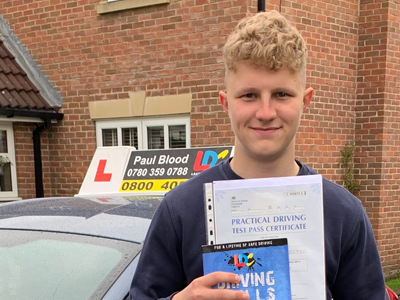 Guy
Passed 1st time
I really enjoyed my lessons with Paul, highly recommended with an approachable teach style that helped me to achieve a pass whilst putting safety first.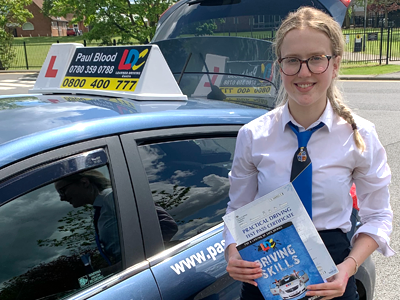 Holly
Passed 1st time
Paul not only taught me how to drive but also how to deal with stressful situations in a calm and collected manner which was something I was worried about. He put all my nerves at ease and was really helpful and understanding when I had any questions or couldn't quite grasp something. I would strongly recommend Paul to everyone!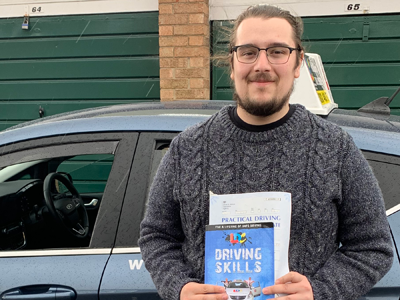 Dan
Thank You Paul
It has been a frustrating time trying to get lessons and pass my test with all the disruption of COVID lockdowns over the last year. My instructor has been really understanding and helped me cope with getting back into the car after long breaks away. We used the LDC System to keep me focused on my development and ensure that each lesson had very clear objectives. Paul was always calm and patient and I really enjoyed his approach to 'coaching me' to drive.
Millie Simenacz
Thank You Paul
I had a great experience learning to drive with Paul. Paul is very understanding, calm and patient. He is always very flexible and helpful with lesson timings. He didn't just teach me how to drive but also how to be a well rounded driver and confident in the car. I enjoyed the structured lessons with clear learning outcomes. Can't recommend Paul enough to anyone looking for an instructor, I am incredibly grateful.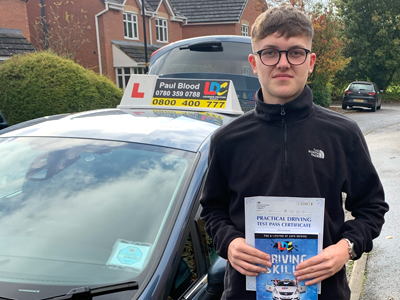 Jacob Stamp
Passed 1st time
Paul is a great instructor who always stayed calm and understanding throughout every lesson. With 100% belief in me at all times I always felt like he would help me progress every lesson with my driving ability and which would help me pass my test 1st time.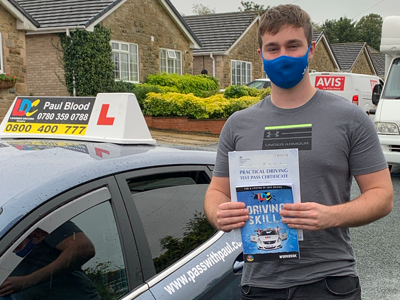 James Kirmond
Passed 1st time
From never being behind the wheel to passing my driving test has been a fantastic experience with Paul. We progressed at a rate comfortable for me with variable levels of input from himself depending on the area we were covering at the time which I found to be very useful. Paul easily recognised areas within my driving that needed work whilst also giving appropriate praise to areas I was comfortable with.
One of my worries when selecting a driving instructor was that the instructor might not be chatty or interesting to talk to as I find it much easier to learn in a relaxed environment, however, I found from day one that Paul was very engaging and personable which made each lesson one to look forward to. He was also very mindful to COVID-19 safety precautions by sanitising all contact points every time we exited and entered the vehicle which further added to the feeling of a safe learning environment.
All LDC material that was provided to me was very useful, especially the online theory test revision which enabled me to pass on my first attempt. Overall, my experience of learning to drive with Paul was excellent, I most certainly will be recommending him to my friends!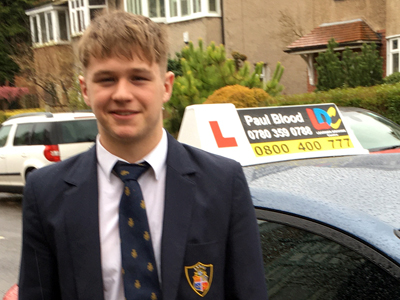 Toby Boyce
Driving Independance
Lessons with Paul where both enjoyable and progressive, I never felt like I wasn't improving my driving and was always receiving information on how to iron out mistakes. Thank you for helping me to pass Paul.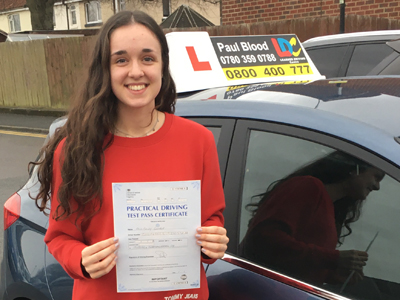 Emily Cooper
First Time Pass
I was able to pass my test on the first attempt after 28 hours worth of lessons over 3 months due to Paul's dedication and commitment to each lesson. He was always calm and explained everything clearly, using the LDC workbook which help cement my understanding. He was very accommodating, being able to pick me up from various places for my lessons and made sure we worked on what I wanted to practice. The lessons were very relaxed and enjoyable. Thanks Paul.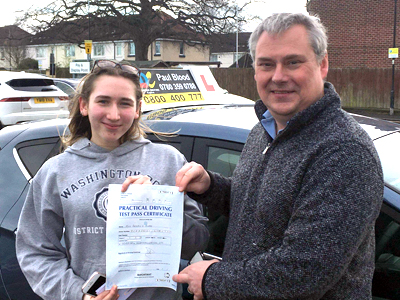 Abi Burke
1st Time Pass
I really enjoyed the structured way of learning that I was provided with whilst learning to drive with the student centred LDC system. The workbook allowed me to evaluate my driving by observing the progress I was making and discovering what areas I needed to improve. This allowed me to enhance and improve my driving at a fast pace. The online videos were very useful in the beginning to provide me with a good understanding of what I was doing each lesson so I could use my time with my instructor to the fullest. The theory test preparation, particularly the hazard perception practice was massively helpful in giving me an insight into how the theory test works and what to expect. Paul was kind, patient and constructive at all times. He was an extremely good coach and I would recommend him very highly.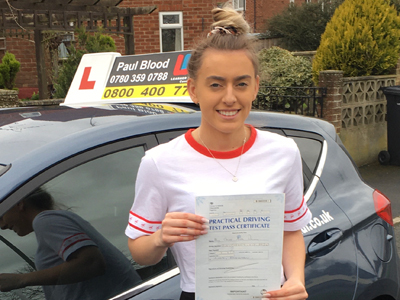 Chloe Dalton
Passed 1st time
Although I had lessons before Paul and i felt confident in my driving. Paul made sure that i was 100% ready for my test. Anything you"re stuck on or need help with Paul is always there to give you the best help you need. I would definitely recommend Paul as your driving instructor as he is very reliable and explains everything as best as he can.
James Pope
First Time Pass
Paul was very helpful as I only needed a test boost as I had already done a few lessons. The LDC Driving Skills Workbook helped my understanding and Paul also assisted in my preparation for my theory test.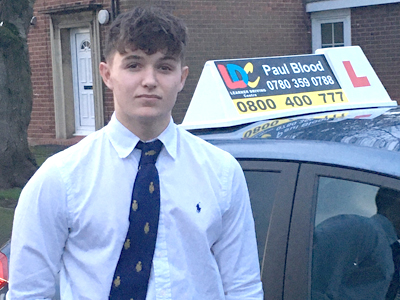 Will Barrett
Passed 1st Time
Although I had practised driving lots before Paul started coaching me he made sure that I was ready for my test. He was 100% focused in every lesson and explained everything really well. I would definitely recommend Paul as a driving instructor and really liked the way he tailored each lesson to what I needed and made it all about me.